Amazon officially opened its Marketplace in india
Ama­zon final­ly announced its mar­ket place in India, ama​zon​.in. Pre­vi­ous­ly it opened jun​glee​.com which is for­wards the buy­ers to the sell­ers web­sites, But ama​zon​.in is its own mar­ket place to sell the prod­ucts and cus­tomers can also sell their prod­ucts on ama​zon​.in.

Cur­rent­ly the ama­zon india is sell­ing the books to chose from over 7 mil­lion and Movies and TV pro­grams col­lec­tion of over 12,000 titles in Eng­lish and Hin­di. The mobiles, cam­eras and more are in "com­ing soon" sta­tus. The ama​zon​.in is offer­ing 30-day return pol­i­cy, cash on deliv­ery and lim­it­ed peri­od free shipping.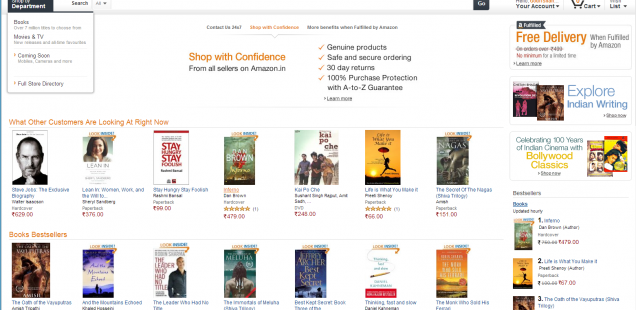 Ama­zon announced the launch of two new sell­er pro­grams "Sell­ing on Ama­zon" and "Ful­fill­ment by Ama­zon". The sell­ing on Ama­zon will allow Indi­an retail­ers sell their prod­ucts online on the site with­out list­ing fee. The pay-as-you-go ful­fill­ment ser­vice will allow sell­ers across India to send their prod­ucts to Ama­zon's ful­fill­ment cen­ter locat­ed on the out­skirts of Mum­bai. Once an order is placed, Ama­zon packs and ships the order to the cus­tomer with­out the sell­ers hav­ing to do anything.
source: bgr​.in
Gouri Shankar is Tech Geek and Java, PHP and Word­Press devel­op­er from India.