Moz­illa pushed the next ver­sion of Fire­fox 19.0 to release chan­nel. Fire­fox 19.0 came with star­tup improve­ments, It is not yet avail­able on Moz­illa web­site but avail­able on Moz­illa FTP servers.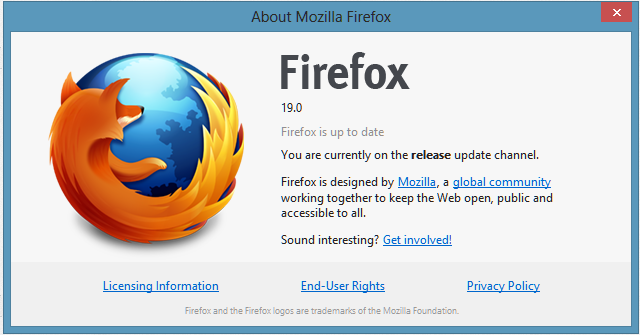 As per the beta web page release notes, The fire­fox 19.0 has new built-in PDF read­er, Fire­fox 19.0 is also fea­tures speed improve­ment and improve­ments for developers. Whenev­er the user opens a pdf doc­u­ment in the browser, it will be opened dir­ectly in its built-in read­er. How­ever the user will get options to change to oth­er reader.
What's New
Built-in

PDF

viewer
Star­tup per­form­ance improvements
For Developers, Debug­ger now sup­ports paus­ing on excep­tions and hid­ing non-enu­mer­able properties
Remote Web Con­sole is avail­able for con­nect­ing to Fire­fox on Android or Fire­fox

OS

(exper­i­ment­al, set devtools.debugger.remote-enabled to true)
There is now a Browser Debug­ger avail­able for add-on and browser developers (exper­i­ment­al, set devtools.chrome.enabled to true)
Web Con­sole

CSS

links now open in the Style Editor

CSS

@page is now supported

CSS

view­port-per­cent­age length units imple­men­ted (vh, vw, vmin and vmax)

CSS

text-trans­form now sup­ports full-width
Down­load Fire­fox on Moz­illa FTP Server.