What's new in Firefox 19.0
Mozilla pushed the next version of Firefox 19.0 to release channel. Firefox 19.0 came with startup improvements, It is not yet available on Mozilla website but available on Mozilla FTP servers.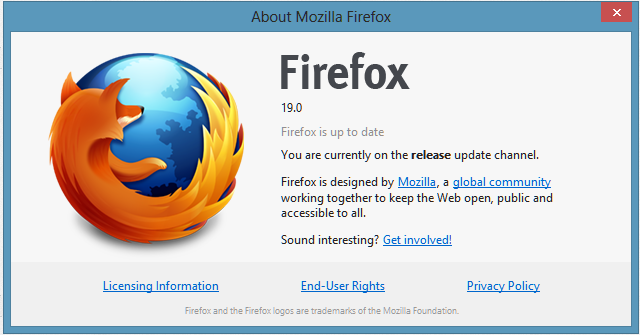 As per the beta web page release notes, The firefox 19.0 has new built-in PDF reader, Firefox 19.0 is also features speed improvement and improvements for developers. Whenever the user opens a pdf document in the browser, it will be opened directly in its built-in reader. However the user will get options to change to other reader.
What's New
Built-in PDF viewer
Startup performance improvements
For Developers, Debugger now supports pausing on exceptions and hiding non-enumerable properties
Remote Web Console is available for connecting to Firefox on Android or Firefox OS (experimental, set devtools.debugger.remote-enabled to true)
There is now a Browser Debugger available for add-on and browser developers (experimental, set devtools.chrome.enabled to true)
Web Console CSS links now open in the Style Editor
CSS @page is now supported
CSS viewport-percentage length units implemented (vh, vw, vmin and vmax)
CSS text-transform now supports full-width
Download Firefox on Mozilla FTP Server.
Gouri Shankar is Tech Geek and Java, PHP and WordPress developer from India.