Amazon India started it's online store
Amazon India store Junglee​.com is live and is in Beta. You can login using Amazon​.com cre­den­tials. The products on junglee​.com are just list­ing that shows the stores in india which are selling the product.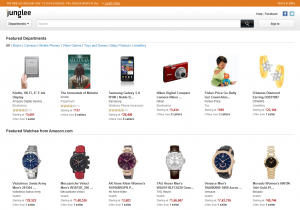 Cur­rently junglee​.com is list­ing more than 1.2 crore products from 14,000+ brands and hun­dreds of retail­ers. Amazon lists includes Homeshop18, Uni­ver­Cell, Bata India Lim­ited, Microsoft India Store, Ree­bok, and Amazon​.com etc.., User can­'t buy the product dir­ectly from the junglee​.com but they will be redir­ec­ted to product seller­'s website.
Source: BGR
Gouri Shank­ar is Tech Geek and Java, PHP and Word­Press developer from India.