Amazon finally announced its mar­ket place in India, amazon​.in. Pre­vi­ously it opened junglee​.com which is for­wards the buy­ers to the sellers web­sites, But amazon​.in is its own mar­ket place to sell the products and cus­tom­ers can also sell their products on amazon​.in.

Cur­rently the amazon india is selling the books to chose from over 7 mil­lion and Movies and TV pro­grams col­lec­tion of over 12,000 titles in Eng­lish and Hindi. The mobiles, cam­er­as and more are in "com­ing soon" status. The amazon​.in is offer­ing 30-day return policy, cash on deliv­ery and lim­ited peri­od free shipping.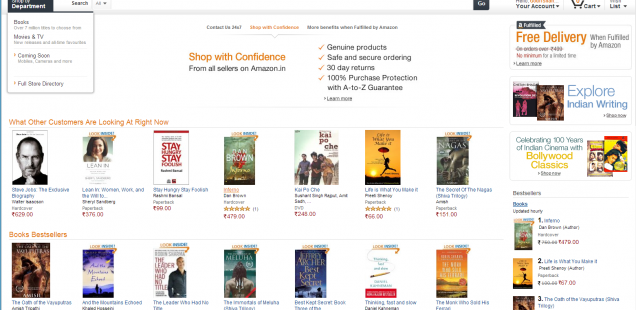 Amazon announced the launch of two new seller pro­grams "Selling on Amazon" and "Ful­fill­ment by Amazon". The selling on Amazon will allow Indi­an retail­ers sell their products online on the site without list­ing fee. The pay-as-you-go ful­fill­ment ser­vice will allow sellers across India to send their products to Amazon's ful­fill­ment cen­ter loc­ated on the out­skirts of Mum­bai. Once an order is placed, Amazon packs and ships the order to the cus­tom­er without the sellers hav­ing to do anything.
source: bgr​.in