Rasp­berry Pi 2 Mod­el B is released. Pi 2 is com­ing with upgraded Pro­cessor and RAM com­pared to it's first gen­er­a­tion of Rasp­berry Pi.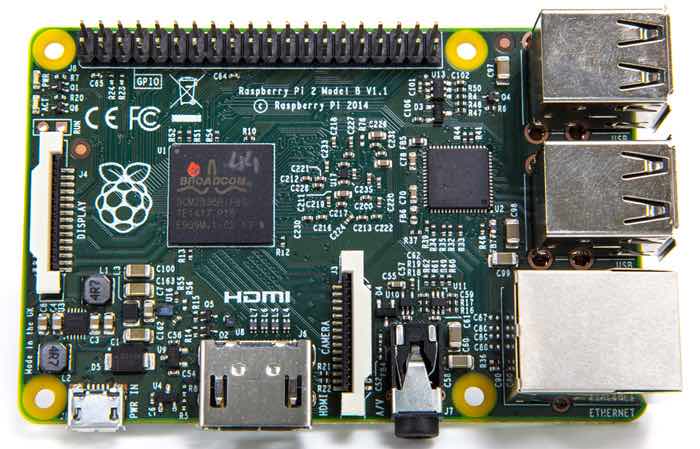 The new Pi 2 has pro­cessor on-board is a 900MHz quad-core chip and have 1GB of RAM. The com­pany claims that The New Pi 2 has 6x per­form­ance improve­ment over Pi Mod­el B+. Still it car­ries same price $35 as well as roughly the same form factor.
The Rasp­berry Pi 2 has a ARMv7 quad-core pro­cessor that runs at 900MHz, com­pared to a single-core CPU that ran at 700MHz in the first gen­er­a­tion. The Rasp­berry Pi 2 also has 1GB of RAM which is doubled from 512MB of its first generation.
Rest of the spe­cific­a­tions are same as Rasp­berry Pi Mod­el B+ includes, 40 GPIO pins, 4 USB 2.0 ports, a push-​push micro SD card socket,HDMI port, 3.5mm jack, and 10 ⁄ 100 LAN port.
The new Rasp­berry Pi 2 also sup­ports Win­dows 10, Microsoft con­firmed that its Win­dows 10 will run on Pi 2. "We are excited about our work with the Rasp­berry Pi Found­a­tion and to share that Win­dows 10 will sup­port Rasp­berry Pi 2," wrote Kev­in Dal­las, Gen­er­al Man­ager, Win­dows IoT Group in a blo­g­post. The com­pany also announced that Win­dows 10 will be free for the Maker com­munity through the Win­dows Developer Pro­gram for IoT.