AMD FX octa-core sets record overclocking by attaining 8.429 GHz
AMD announced it has achieved the Guinness World Record for the "Highest Frequency of a Computer Processor," by overclocking the upcoming 8-core AMD FX desktop processor. The record was set Aug. 31, 2011, in Austin, Texas, by "Team AMD FX," a group of elite overclocking specialists reached 8.429GHz on an 8-core desktop CPU surpassed the previous record of 8.308GHz.
8.429 GHz was achieved using a base clock of 271.92 MHz with 31.0X multiplier. Cooling was taken care by a custom liquid-nitrogen setup. The team used liquid nitrogen and switched to liquid helium halfway, which has a lower boiling point.
You can see the detailed CPUZ screen shot.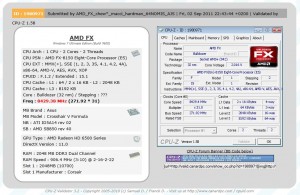 And you can watch the video too

Gouri Shankar is Tech Geek and Java, PHP and WordPress developer from India.