"Nine years after launch­ing the world's first 1 GHz CPU, AMD is again first to break the giga­hertz bar­ri­er with the fact­ory over­clocked, air-cooled ATI Radeon HD 4890 GPU"
AMD announced the world's first 1GHz graph­ics pro­cessor (without third-party / over­clock­ing) with the ATI Radeon HD 4890 GPU with air cool­ing. When HD 4890 is released it is the 850MHz clock ver­sion. Power col­or released 950MHz core clock speed ver­sion. What ever we are see­ing the 1GHz ver­sions are over­clocked verions of Stand­ard 850MHz core clock speed.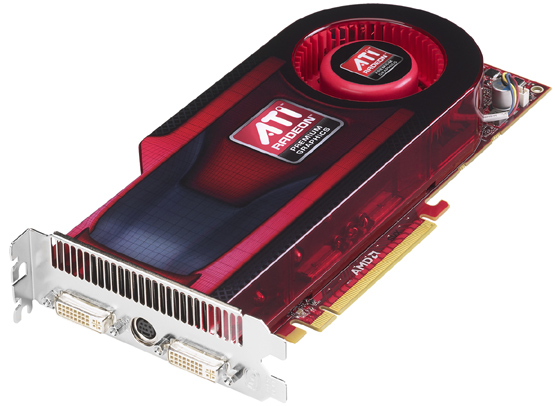 The ATI Radeon HD 4890, boasts a whop­ping 1.36 Ter­a­FLOPs of com­pute power, super­i­or GDDR5 memory. The ATI Radeon HD 4890 comes with Dir­ectX 10.1 support.
As per Press Release
With this product,

AMD

achieves a not­able engin­eer­ing mile­stone as the first graph­ics com­pany to break the

1

GHz barrier.
The new

ATI

Radeon

HD

4890

util­izes advanced GDDR

5

memory and a

1

GHz clock speed to deliv­er

1

.

6

Ter­a­FLOPs of com­pute power,

50

per­cent more than that of the com­pet­i­tion best single-GPU solution

2

. With this level of raw com­pute power, the

1

GHz

ATI

Radeon

HD

4890

is set to deliv­er new levels of gen­er­al pur­pose GPU-accel­er­ated per­form­ance in

ATI

Stream applic­a­tions such as video transcod­ing and post processing.
This new ver­sion of the

ATI

Radeon

HD

4890

marks the latest addi­tion to the award-win­ning

ATI

Radeon

HD

4000

series delivered by

AMD

tech­no­logy part­ners Sap­phire,

XFX

, Asus and

TUL

.
The advanced design of the

ATI

Radeon

HD

4890

deliv­ers an amaz­ing gam­ing exper­i­ence in the latest games, includ­ing ground-break­ing Dir­ectX

10

.

1

titles such as Ubisoft Tom Clancy's H.A.W.X., Elec­tron­ic Arts Bat­tle­Forge and SEGA's Storm­rise released last month, as well as

GSC

Game­world's S.T.A.L.K.E.R: Clear Sky. When com­pared to Dir­ectX

10

game play, Dir­ectX

10

.

1

games have proven to deliv­er high­er game per­form­ance and an improved visu­al exper­i­ence. In addi­tion, these cards fea­ture sup­port for open stand­ards like OpenGL

3

with Dir­ectX

10

-like hard­ware exten­sions, and the recently rat­i­fied Open­CL specification.
The

ATI

Radeon

HD

4890

sup­ports advanced game phys­ics. At the

2009

Game Developers Con­fer­ence in San Fran­cisco, Hav­ok and

AMD

demon­strated the first imple­ment­a­tion of Open­CL run­ning on

AMD

graph­ics pro­cessors. In the demon­stra­tion, Hav­oks phys­ics tech­no­logy delivered com­plex and real­ist­ic sim­u­la­tions of real-world mater­i­als like cloth, demon­strat­ing the poten­tial for increased real­ism in forth­com­ing games.
To date, the

ATI

Radeon

HD

4890

card has won numer­ous awards, includ­ing the pres­ti­gi­ous Edit­or Choice Gold Award from HardOCP, the HotHard­ware Recom­men­ded Award and the Edit­or Choice Award from Tweak­town, among oth­ers. The accol­ades speak to the excite­ment around the product and to the con­tin­ued strength of the dis­crete graph­ics mar­ket over­all, some­thing ana­lyst Dr. Jon Ped­die of Jon Ped­die Research pre­dicts will con­tin­ue to play a strong role in the com­put­ing industry.
As a res­ult of the world­wide accol­ades from media, developers, enthu­si­asts and fans,

AMD

released an inside look at how the card was made and what it means for gamers. The card marks a new aspect to the

AMD

Dragon desktop plat­form tech­no­logy, provid­ing an even more power­ful single

GPU

desktop graph­ics option to OEMs, chan­nel part­ners, and do-it-your­self (

DIY

) consumers.
Read the Press Release : AMD Deliv­ers the World's First 1 GHz Graph­ics Processor