Blackphone: A privacy focused phone available for pre-order at $
629
Black­phone, The joint ven­ture of Silent Cir­cle and Geek­s­pho­ne, is announced at MWC 2014, It's main focus is on pri­va­cy direct­ly con­trolled by end user. Black­phone offers a full suite of appli­ca­tions giv­ing world­wide users unprece­dent­ed con­trol over pri­va­cy and security.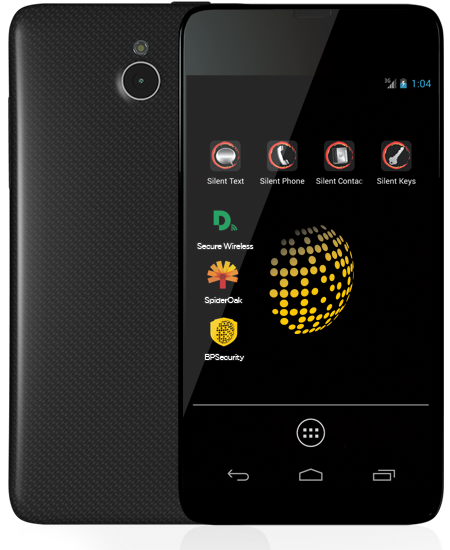 Black­phone pro­vides encryp­tion for phone calls, emails, texts and inter­net brows­ing. It will pro­vide inter­net access through VPN. The phone runs on a mod­i­fied ver­sion of Android called PrivatOS.
Hard­ware part, The black­phone sports a 4.7‑inch HD IPS screen pow­ered by 2 GHz quad-core SoC with 2GB DDR3 RAM, 16GB of inter­nal stor­age, 8MP pri­ma­ry cam­era with flash and 1.3MP front cam­era, sup­ports LTE, HSPA+, Blue­tooth 4.0, 802.11n Wi-Fi, GPS and more.
Black­phone comes unlocked and fea­tures sev­er­al pre-installed pri­va­cy tools, all of which are ful­ly enabled for at least two years of usage. The pri­va­cy tools include the Silent Cir­cle suite of apps, includ­ing Silent Phone, Silent Text, and Silent Con­tacts; anony­mous search, pri­vate brows­ing, and VPN from Dis­con­nect; and secure cloud file stor­age from Spi­derOak. In addi­tion, phone ships with the Smart WiFi Man­ag­er from Mike Ker­shaw, Chief Archi­tect for SGP Tech­nolo­gies, and a pow­er­ful remote-wipe and device recov­ery tool.
Pri­vatOS offers fre­quent Secure Over-The-Air (SOTA) updates direct­ly from SGP Tech­nolo­gies, rather than rely­ing on car­ri­ers to approve and release updates. Black­phone will also ship with the Black­phone Acti­va­tion Wiz­ard and the Black­phone Secu­ri­ty Center.
Black­phone is now avail­able for pre-order to indi­vid­u­als and enter­pris­es as an unlocked device with a start­ing price of US$629.
Gouri Shankar is Tech Geek and Java, PHP and Word­Press devel­op­er from India.