Get your hands on Windows 8 Developer Preview today!
Microsoft made available its next windows developers preview for developers. It is pre-beta version. The Windows 8 comes with lot of improvements over windows 7 and natively supports all the windows 7 applications. Both 32bit and 64bit ISO images are available for download includes OS, Windows SDK for Metro style apps, Microsoft Visual Studio 11 Express, the Microsoft Expression Blend 5 Developer Preview and 28 Metro style apps.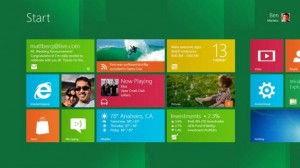 Some of features windows 8 includes are
All Windows 7 applications will run on Windows 8
Logins will use a photo based system
Refreshed Windows Task Manager suspends apps when they are not running on-screen
Hyper-V virtualization software comes pre loaded on Windows 8
"Reset and Refresh PC" functions enable simplified system wipe and restore
Multi touch support enabled for IE 10
Built-in antivirus software will ship in Windows 8
Metro-style refresh for Mail, Photos, Calendar and People apps with Windows Live ID
Windows 8 devices equipped with an NFC chip will be able to use a tap-to-share feature to either send data from one device to another, or simply receive data from an NFC equipped card.
There will not be a different edition of Windows 8 for tablets and probably not for Media Centers either
ARM devices will be supported, but not in the developer preview
System Requirements
Developer Preview works great on the hardware that powers Windows Vista and Windows 7:
1 gigahertz (GHz) or faster 32-bit (x86) or 64-bit (x64) processor
1 gigabyte (GB) RAM (32-bit) or 2 GB RAM (64-bit)
16 GB available hard disk space (32-bit) or 20 GB (64-bit)
DirectX 9 graphics device with WDDM 1.0 or higher driver
Taking advantage of touch input requires a screen that supports multi-touch
Gouri Shankar is Tech Geek and Java, PHP and WordPress developer from India.