Sam­sung announced its Galaxy A‑series smart­phones Galaxy A3 and Galaxy A5. Both smart­phones comes with full met­al frame, slim design and a 5‑megapixel front facing camera.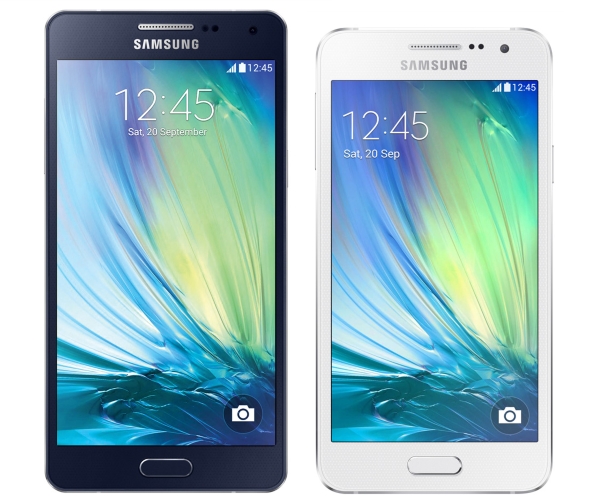 The Galaxy A3 sports mid-range spe­cific­a­tion, where­as the Galaxy A5 packs rel­at­ively high­er-end hard­ware. The Galaxy A3 and A5 are of 6.9mm and 6.7mm thin respectively.
"The Galaxy A5 and A3 offer a beau­ti­fully craf­ted full met­al unibody, slim design, super­i­or hard­ware and the best pos­sible social media exper­i­ence" said JK Shin, CEO and Head of IT & Mobile Com­mu­nic­a­tion at Sam­sung Elec­tron­ics. "These devices make our advanced Galaxy exper­i­ence even more access­ible to young and trend con­scious consumers."
On spe­cific­a­tion front A3 sports 4.5‑inch dis­play with qHD (540×960) res­ol­u­tion, powered by quad-core 1.2GHz pro­cessor paired with 1GB RAM and 16GB intern­al memory which can be expand­able upto 64GB through microSD card, and a 1900mAh bat­tery. A3 has an 8‑megapixel rear-cam­era with 1080p video record­ing cap­ab­il­ity, and a 5‑megapixel front-facing cam­era. It runs on Android 4.4 KitKat. On the con­nectiv­ity front, it sup­ports 4G LTE / 3G, Wi-Fi 802.11 a/​b/​g/​n, Bluetooth 4.0, and A‑GPS/ GLONASS.
Where as A5 has 5‑inch AMOLED dis­play with 720p res­ol­u­tion. The smart­phone a 1.2GHz quad-core pro­cessor paired with 2GB of RAM. On the cam­era front, it has a 13-mega­pixel rear cam­era, and a 5‑megapixel front cam­era. It comes with 16GB intern­al memory and a microSD card slot expand­able upto 64GB. It has a 2300 mAh bat­tery. On the con­nectiv­ity front, it sup­ports 4G LTE / 3G, Wi-Fi 802.11 a/​b/​g/​n, Bluetooth 4.0, and A‑GPS/ GLONASS.
Both smart­phones come with Ultra Power Sav­ing Mode, as well as the latest cam­era app loaded with fea­tures includ­ing Wide Selfie, Palm Selfie, Rear Cam Selfie, and Beauty Face, which first came in Galaxy Note 4.
The smart­phones come in sev­er­al col­or options, includ­ing pearl white, mid­night black, plat­in­um sil­ver, light blue, soft pink, and cham­pagne gold. Price details are not yet revealed, but the phones will launch in select mar­kets includ­ing China start­ing November.