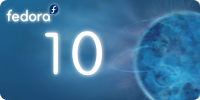 Fedora Project, today announced the release of Fedora 10 integrated the latest free and open source software. Fedora 10 features? Plymouth, the new graphical boot system speeds up the boot process by utilizing the features in new kernel. Fedora 10 also comes with enhanced security tool called SecTool. Fedora 10 includes the OpenOffice.org 3.0 and GNOME 2.24.1, a rewritten audio system uses lower power with quick & increased response and support for more hardware, RPM 4.6 is a major update to the powerful, flexible software management libraries, Wireless connection sharing enables ad hoc network sharing, local and remote connections Virtualization storage is simplified
Fedora 10 is available with installable or live versions with GNOME, KDE desktop.
Download the Fedora 10 at Fedora download
Gouri Shankar is Tech Geek and Java, PHP and WordPress developer from India.