Intel Demonstrates First Working 32nm-based processor

10th, Feb 2009 San Francisco, Intel corp, World's largest semiconductor company demonstrated the first working 32nm processor. Intel Corporation discussed new milestones for 32nm manufacturing and progress toward future products.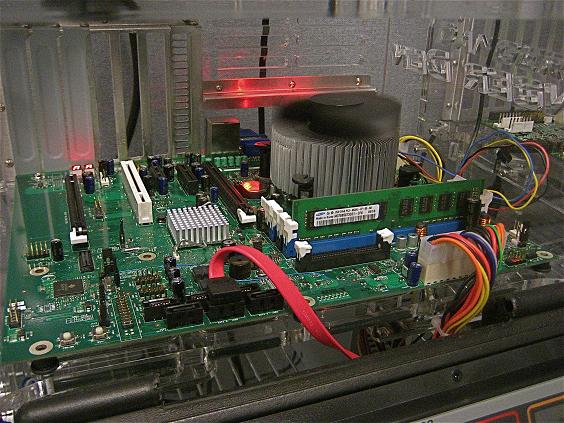 Working intel 32nm processor
Summary of the Roadmap at the briefing in San Francisco:
First-ever demonstration of a working 32nm-based microprocessor:
Intel is demonstrating the first 32nm working microprocessor in both mobile and desktop systems.
Great 32nm process and product health are enabling Intel to accelerate 32nm product ramp

Westmere mobile and desktop processor production in the fourth quarter of 2009
32nm enables increased performance and power flexibility

Intel processors based on Westmere will ramp into mobile, desktop, and server segments over time, as the 32nm process ramps
For client, Westmere brings Nehalem through Intel's mainstream processor product line
Increased performance, smaller processor core size
New multi-chip package with graphics integrated in the processor
Repartitioned system architecture, simplified motherboards
Volume ramp; expect 32nm in server market in 2010
Westmere key features
Intel? Turbo Boost technology
Intel? Hyper-Threading technology (2 Cores, 4 threads)
Integrated graphics, discrete/switchable graphics support
4MB cache, Integrated Memory Controller (IMC) – 2ch DDR3
AES Instructions
The 32nm process with second-generation high-k + metal gate transistor allows to deliver new generations of advanced process technology on a 2-year cadence. Intel has developed a 32nm logic technology with industry-leading features:
Second-generation high-k + metal gate transistors
32nm marks the first time Intel uses immersion lithography on critical layers
9 copper + low-k interconnect layers
About 70 percent dimension scaling from 45nm generation
Pb- and halogen-free packages
For more information refer intel website
Gouri Shankar is Tech Geek and Java, PHP and WordPress developer from India.