ARM

Unveils Cortex-A

15

Mpcore Processor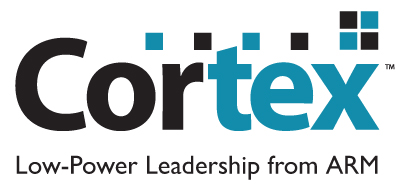 ARM intro­duced the Cor­tex-A15 MPCore proces­sor (code­name Eagle) that deliv­ers a 5x per­for­mance improve­ment over today's advanced smart­phone processors,within a com­pa­ra­ble ener­gy foot­print. The Cor­tex-A15 proces­sor will clock up to 2.5GHz designed in 32nm, 28nm and small­er sizes.
"The launch of the Cor­tex-A15 MPCore proces­sor marks the begin­ning of an entire­ly new era for the ARM Part­ner­ship. It brings togeth­er more than 20 years of ARM exper­tise in low-pow­er design with a host of new and very aggres­sive high-per­for­mance tech­nolo­gies" said Mike Inglis, EVP and GM, Proces­sor Divi­sion, ARM.
The cor­tex-A15 is the lat­est addi­tion to ARM's Cortex‑A fam­i­ly, the Cor­tex-A15 MPCore proces­sor has full appli­ca­tion com­pat­i­bil­i­ty with all of the oth­er high­ly acclaimed Cortex‑A proces­sors. This enables imme­di­ate access to an estab­lished devel­op­er and soft­ware ecosys­tem includ­ing Android, Adobe Flash Play­er, Java Plat­form Stan­dard Edi­tion (Java SE), JavaFX, Lin­ux, Microsoft Win­dows Embed­ded Com­pact 7, Sym­bian and Ubun­tu, along with more than 700 ARM Con­nect­ed Com­mu­ni­ty mem­bers pro­vid­ing appli­ca­tions soft­ware, hard­ware and soft­ware devel­op­ment tools, mid­dle­ware and SoC design services.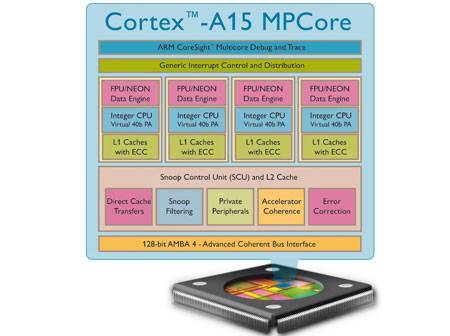 The Cor­tex-A15 scales from one to fur cores and comes with mul­ti­ple enhance­ments like effi­cient hard­ware sup­port for OS vir­tu­al­iza­tion, soft-error recov­ery, larg­er mem­o­ry address­abil­i­ty and sys­tem coheren­cy. This chip was made in col­lab­o­ra­tion with Sam­sung, ST Eric­s­son and Texas Instruments.
Source : ARM
Gouri Shankar is Tech Geek and Java, PHP and Word­Press devel­op­er from India.