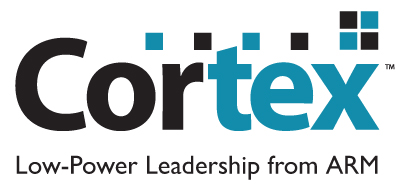 ARM intro­duced the Cor­tex-A15 MPCore pro­cessor (code­name Eagle) that deliv­ers a 5x per­form­ance improve­ment over today's advanced smart­phone processors,within a com­par­able energy foot­print. The Cor­tex-A15 pro­cessor will clock up to 2.5GHz designed in 32nm, 28nm and smal­ler sizes.
"The launch of the Cor­tex-A15 MPCore pro­cessor marks the begin­ning of an entirely new era for the ARM Part­ner­ship. It brings togeth­er more than 20 years of ARM expert­ise in low-power design with a host of new and very aggress­ive high-per­form­ance tech­no­lo­gies" said Mike Ing­lis, EVP and GM, Pro­cessor Divi­sion, ARM.
The cor­tex-A15 is the latest addi­tion to ARM's Cortex‑A fam­ily, the Cor­tex-A15 MPCore pro­cessor has full applic­a­tion com­pat­ib­il­ity with all of the oth­er highly acclaimed Cortex‑A pro­cessors. This enables imme­di­ate access to an estab­lished developer and soft­ware eco­sys­tem includ­ing Android, Adobe Flash Play­er, Java Plat­form Stand­ard Edi­tion (Java SE), JavaFX, Linux, Microsoft Win­dows Embed­ded Com­pact 7, Sym­bi­an and Ubuntu, along with more than 700 ARM Con­nec­ted Com­munity mem­bers provid­ing applic­a­tions soft­ware, hard­ware and soft­ware devel­op­ment tools, mid­dle­ware and SoC design services.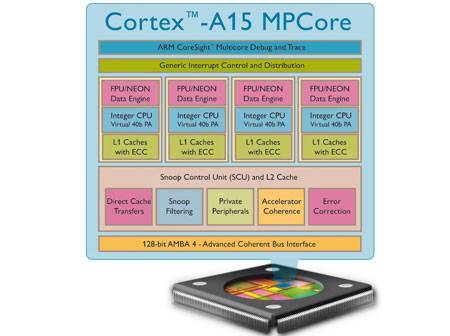 The Cor­tex-A15 scales from one to fur cores and comes with mul­tiple enhance­ments like effi­cient hard­ware sup­port for OS vir­tu­al­iz­a­tion, soft-error recov­ery, lar­ger memory address­ab­il­ity and sys­tem coher­ency. This chip was made in col­lab­or­a­tion with Sam­sung, ST Eric­sson and Texas Instruments.
Source : ARM