Google announced indoor maps in India for android and ios
Google bought the indoor maps fea­ture to India. Google says that start­ing today, users across 22 cities in India can access Google's maps for var­i­ous malls and museums.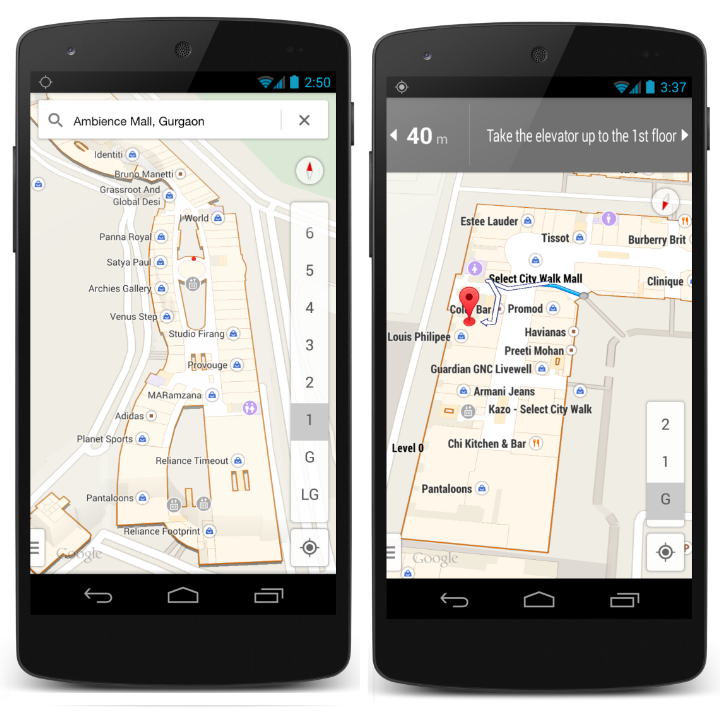 Ini­tial­ly the com­pa­ny is offer­ing indoor maps for 75 loca­tions includ­ing — Ban­ga­lore, Bhopal, Chen­nai, Coim­bat­ore, Chandi­garh, Dehradun, Del­hi, Ghazi­abad, Goa, Gur­gaon, Hyder­abad, Jaipur, Kochi, Kolkata, Luc­know, Lud­hi­ana, Morad­abad, Mum­bai, Noi­da, Pune, Raipur, vado­dara and hopes to add more soon.
Indoor Google Maps are like hav­ing an indoor direc­to­ry in the palm of your hand — help­ing you more eas­i­ly work out how to get to where you want to go, with­out hav­ing to find a free­stand­ing direc­to­ry or mall assistant.
Indoor maps fea­ture is cur­rent­ly avail­able for Google's Map app for Android and iOS.
Using indoor maps, users will find it easy to locate stores, espe­cial­ly in an unfa­mil­iar shop­ping mall or when they plan a vis­it to a muse­um like Salar jung in Hyderabad.
 — Google India Direc­tor and Prod­uct Man­ag­er (Maps) Suren Ruhela
more at google­blog
Gouri Shankar is Tech Geek and Java, PHP and Word­Press devel­op­er from India.