Samsung Galaxy S

5

is announced: a
5

.

1

‑inch full

HD

display,

16

MP

camera,

LTE

, Wi-Fi

802

.

11

ac, fingerprint scanner, heart rate monitor
Sam­sung announced Sam­sung Galaxy S5 today at MWC 2014. The S5 sports 5.1‑inch full HD (1080p) AMOLED dis­play, pow­ered by 2.5GHz quad-core proces­sor or an 8‑core Exynos proces­sor depend­ing on the region and paired with 2GB of RAM.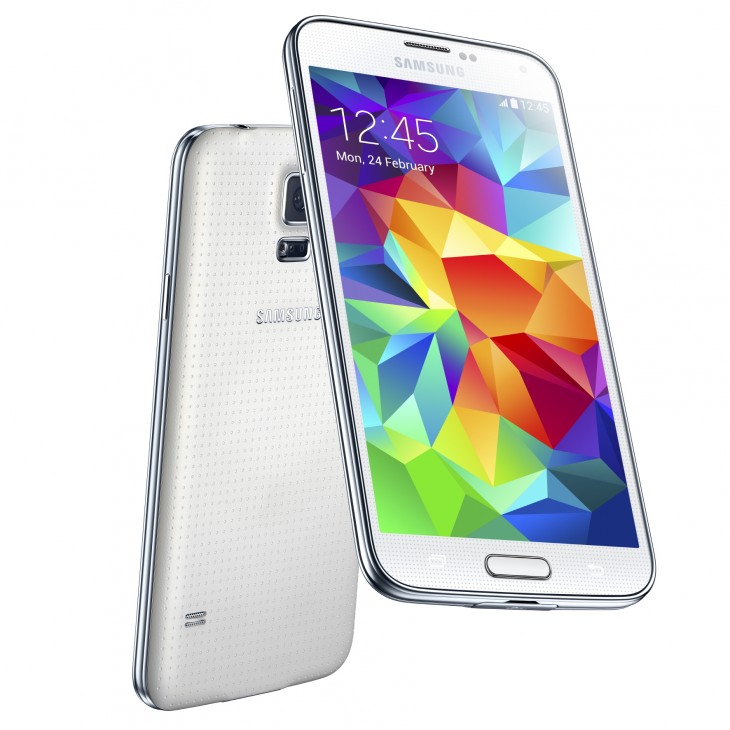 Sam­sung Galaxy S5 pow­ered by a quad-core 2.5GHz proces­sor, 2GB of RAM, a 2800mAh bat­tery and either 16GB or 32GB of inter­nal stor­age with a microSD card slot for expand­abil­i­ty up to 64GB of extra space. Sam­sung claims the Galaxy S5 offers "the most advanced LTE expe­ri­ence and Wi-Fi per­for­mance" of any smart­phone on the mar­ket, with Wi-Fi 802.11ac and 2X2 MiMo, as well as LTE with Cat­e­go­ry 4. Galaxy S5 is also IP67-cer­ti­fied, which adds an ele­ment of water and dust resis­tance, the micro-USB 3.0 port at the bot­tom is pro­tect­ed by a tab that keeps water from get­ting inside. The Galaxy S5 runs Android ver­sion 4.4 (KitKat).
The S5 sports 16 megapix­el cam­era, the time spent between shots has been reduced to 0.3 sec­ond and the hand­set now sup­ports 4K video record­ing and high dynam­ic range (HDR) pro­cess­ing (both pho­tos and video) and a 2.1‑megapixel front shoot­er. Sam­sung is intro­duc­ing a selec­tive focus fea­ture that's much like Noki­a's Refo­cus Lens, in which you can change the depth of field on an image after it's taken.
One of the biggest talk­ing points for the Galaxy S5 is that new fin­ger­print scan­ner. Sam­sung's scan­ner, which works by swip­ing your fin­ger down over the home but­ton, has a few handy use cas­es. In addi­tion to the usu­al phone unlock option, it also lets you fin­ger­print-pro­tect a pri­vate data lock­er on your phone, in case you have con­fi­den­tial infor­ma­tion you don't want get­ting out there. Sam­sung also announced a part­ner­ship with Pay­Pal which allows you to make online pay­ments using the fin­ger­print method.
The oth­er new fea­ture is the heart rate sen­sor, which is built into the same rear mod­ule as the LED flash. It works in con­junc­tion with S‑Health 3.0, which acts as a per­son­al life coach of sorts. To mon­i­tor your pulse, hold your fin­ger up to the sen­sor and leave it there while the phone does the rest of the work. As you con­tin­ue to do this more often, S‑Health remem­bers your his­to­ry and even goes through the effort of graph­ing it and offer­ing up oth­er rel­e­vant information.
The S5 new "ultra pow­er-sav­ing mode" will keep your hand­set alive by mak­ing the screen black and white and turn­ing off all the non-essen­tial ser­vices on your phone. Sam­sung claims if you put your phone in stand­by mode with only 10% of the bat­tery left, it will still last "up to 24 hours" before run­ning out of power.
The Galaxy S5 will be avail­able start­ing April 11th in 150 countries.
Source: sam­sung­mo­bilepress
Gouri Shankar is Tech Geek and Java, PHP and Word­Press devel­op­er from India.