Nvidia Tegra
4

is Announced
Nvidia unveiled its next-gen mobile proces­sor Tegra 4 code­named Wayne at CES 2013. It has many improve­ments, includ­ing it fea­tures ARM's Cor­tex A15 archi­tec­ture, con­sists of 72 GPU cores which is six times more than the 12 cores in Tegra 3.
The new chip is designed same as Tegra 3's 4‑plus‑1 design which means a small­er 5th core helps reg­u­late the pow­er among the four more pow­er­ful cores.
The SoC is also based on the 28nm fab­ri­ca­tion process that should great­ly help in improv­ing bat­tery life con­sumes up to 40 per­cent less­er bat­tery than Tegra 3. Nvidia claims Tegra 4 pro­vides faster web page load times, up to 2.6 times faster.
Tegra 4′s fifth low pow­er core con­sumes even less­er bat­tery when com­pared to the one on Tegra 3. Tegra 4 is also the first mobile chipset to sup­port 4K video.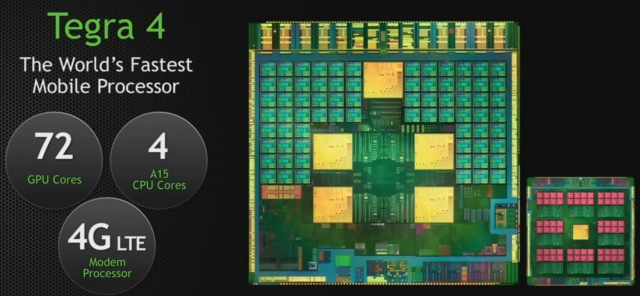 Gouri Shankar is Tech Geek and Java, PHP and Word­Press devel­op­er from India.