Sam­sung announced suc­cessor to Galaxy S3, the latest flag­ship smart­phone Sam­sung Galaxy S4, set to launch by end of April will be avail­able in 55 coun­tries with 327 oper­at­ors. There will be two ver­sions, one with 3G and the oth­er sup­ports 4G/LTE.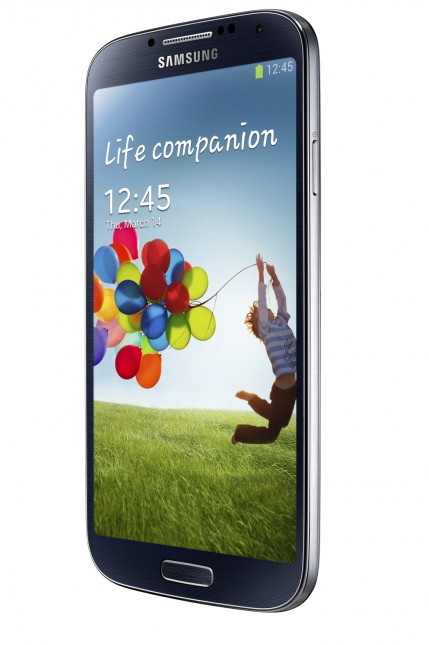 Sam­sung Galaxy S4 fea­tures 5‑inch super AMOLED dis­play with a res­ol­u­tion of 1080p pixels(441 ppi). The inter­na­tion­al ver­sion is powered by 8‑core Exynos Octa pro­cessor clocked at 1.9GHz, 2GB of RAM and will be avail­able in 16, 32 and 64 GB ver­sions with microSD card sup­port. It also has a 2600-mAh bat­tery, NFC, Bluetooth 4.0, sup­port for 802.11ac Wi-Fi and also has a built-in IR Blaster. The US ver­sion uses the Qual­comm Snap­dragon 600 processor.
Sam­sung added a ther­mo­met­er and IR ges­ture sensor in addi­tion to the stand­ard suite of sensors. The Galaxy S4 also has Qi wire­less char­ging cap­ab­il­it­ies and it will also offer a wire­less char­ging pad.
There are a whole lot of oth­er new soft­ware fea­tures that come with the Galaxy S4.
Dual Cam­era: It allows sim­ul­tan­eous use of both front and rear cam­er­as. When click­ing images, users can choose from a vari­ety of frame effects which blend the two pic­tures nat­ur­ally and also adjust the size of the small pic­ture inside the big one.
Sound & Shot: Anoth­er cam­era related fea­ture, it cap­tures the sound along with an image.
Smart Pause: Smart pause fea­ture pauses the cur­rently play­ing video when the user look­ing away, with the resum­ing play­back when user look back.
Smart Scroll: lets the user move through web pages without look­ing at the screen. Sam­sung says the S4 recog­nises the user­'s face look­ing at the screen as well as the move­ment of the wrist and moves the con­tent to match the user­'s movements.
S Trans­lat­or: This fea­ture provides instant trans­la­tion and sup­ports both from speech to text and text to speech. At present S Trans­lat­or sup­ports 9 languages.
S Voice Drive: This fea­ture allows to oper­ate S4 while driv­ing, which activ­ates voice com­mands while driving.
Optic­al Read­er: Which scans busi­ness cards and the like and provide use­ful actions like call­ing a num­ber or trans­lat­ing the text.
Sam­sung WatchOn: which uses the IR blaster to use S4 like a uni­ver­sal remote.
Group Play: which syncs mul­tiple phones to use them as ste­reo speak­ers for music play­back. user can also share pho­tos, files and games with selec­ted friends without need­ing a ded­ic­ated network.
Air View: lets pre­view mes­sages or images and pull con­tex­tu­al data by hov­er­ing fin­gers over the screen.
Air Ges­ture: Air Ges­ture allows to con­trol the music play­er, answer calls or scroll through pages without actu­ally touch­ing the screen.
Pricing
&

Availability

Sam­sung has not revealed the pri­cing yet. The Sam­sung Galaxy S4 will go on sale glob­ally begin­ning the end of April. S4 will be avail­able in 55 coun­tries with 327 oper­at­ors. S4 will be avail­able in two col­our vari­ants, Black Mist and White Frost.
Whats Changed ?
mod­el
Galaxy S

4

Galaxy S

3

OS

Android

4

.

2

.

2

(Jelly Bean)
Android

4

.

1

(Jelly Bean)
Pro­cessor

1

.

9

GHz Exynos Octa

8

‑core pro­cessor /

1

.

9

GHz Quad-core Qual­comm processor
Sam­sung Exynos

4

/ Qual­comm Snap­dragon S

4

MSM

8960

Memory

2

GB

1

GB /

2

GB
Dis­play

5

‑inch Full

HD

Super

AMOLED

4

.

8

‑inch Super

AMOLED

Res­ol­u­tion

1920

x

1080

1280

x

720

Glass
Gor­illa Glass

3

Gor­illa Glass

2

Pixel Dens­ity

441

ppi

306

ppi
Stor­age

16

GB /

32

GB /

64

GB

+ microSD slot (up to

64

GB)

16

GB /

32

GB + microSD slot (up to

32

GB)
Primary Cam­era

13

-mega­pixel

BSI

AF

8

‑megapixel

BSI

AF

Sec­ond­ary Camera

2

‑megapixel

BSI

1

.

9

‑megapixel

BSI

Cel­lu­lar

GSM

/

EDGE

/

UMTS

/

DC-HSPA

+/

LTE

Cat

3

(bands vary by market)

GSM

/

EDGE

/

UMTS

/

HSPA

+/

LTE

(bands vary by market)
WiFi
WiFi

802

.

11

a/​ac/​b/​g/​n, HT

80

802

.

11

a/​b/​g/​n, HT

40

Bluetooth

4

.

0

LE

4

.

0

LE

Nav­ig­a­tion

GPS

/

GLONASS

GPS

/

GLONASS

Con­nectiv­ity

NFC

/

MHL

2

.

0

/

IR

LED

NFC

/

MHL

SIM

Micro-SIM
Micro-SIM
Bat­tery

2600

mAh

2100

mAh
Weight

130

g

133

g
Dimen­sions

136

.

6

x

69

.

8

x

7

.

9

mm

136

.

6

x

70

.

6

x

8

.

6

mm
Col­ors
Black Mist / White Frost
Pebble Blue / Marble White