Microsoft unveiled Win­dows 8.1, formerly Win­dows Blue. It is com­ing with lots of new fea­tures, improve­ments, tweaks every aspect of the oper­at­ing sys­tem like lock screen, start menu, win­dows store etc.;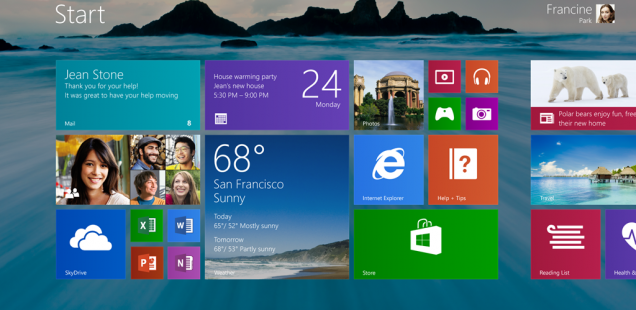 Microsoft says the update will be avail­able to all Win­dows 8 devices before the end of the year. It is free to win­dows 8 users. Win­dows 8.1 mainly focuses on mak­ing user inter­face more friendly, adding new abilities.
Personalization
Win­dows Per­son­al­iz­a­tion of start screen now have the fea­tures to add per­son­al wall paper.
Win­dows

8

.

1

offers more col­ors and back­grounds for the Start screen includ­ing ones with motion.
Win­dows lock screen can have per­son­al pic­tures from loc­al drive or sky drive or pic­ture can be set by cap­tur­ing one from the webcam.
Desktop back­ground can also showed as start screen background.
Start Screen in Win­dows

8

.

1

fea­tures a vari­ety of tile sizes includ­ing a new large (double the size of the largest tile size in Win­dows

8

) and new small tile (half the size of the smal­lest tile size in Win­dows

8

).
assign­ing the name to the groups and rearran­ging tiles is easi­er in win­dows

8

.

1

. mul­tiple selec­tion of apps all at once, res­ize, unin­stall or rearrange can be done easily.
Apps can be filtered by name, date installed, most used, or by category.
When an app is installed from the Win­dows Store, It no longer comes to start screen. Instead, these apps will be avail­able under apps view as men­tioned above and marked as "new" where these can be pinned to start screen.
Search
The Search will provide glob­al search results(powered by Bing).
It is the mod­ern ver­sion of the com­mand line!
Quick actions include things user can play a song or video right from the results.
Res­ults from loc­al files, apps, and set­tings are eas­ily accessed in the same con­veni­ent view by scrolling to the left.
Apps and Windows Store
All built-in apps are get­ting overhauled.
The Pho­tos app get­ting some new edit­ing fea­tures that lets user quickly edit or adjust pho­tos when user opens them in the Pho­tos app or open them from oth­er places like the Mail, Sky­Drive, and Cam­era apps.
Music app has been com­pletely redesigned to help pick and play music from collection.
Some brand new apps will be intro­duced in the future.
Win­dows

8

.

1

fea­tures vari­able, con­tinu­ous size of snap views.
User can have mul­tiple apps on the screen at the same time.
User can res­ize apps to any size, share the screen between two apps, or have up to three apps on each screen if you have mul­tiple dis­plays connected.
User can have dif­fer­ent Win­dows Store apps run­ning on all the dis­plays at the same time and the Start Screen can stay open on one monitor.
Also Users can have mul­tiple win­dows of the same app snapped togeth­er – such as two Inter­net Explorer windows.
The improved Win­dows Store in Win­dows

8

.

1

is designed to have the app list­ing more descript­ive and inform­at­ive and shows related apps.
App updates install auto­mat­ic­ally in the back­ground as well as they come through the Store.
And search is avail­able in the upper right hand corner for find­ing the apps you want.
Cloud Connectivity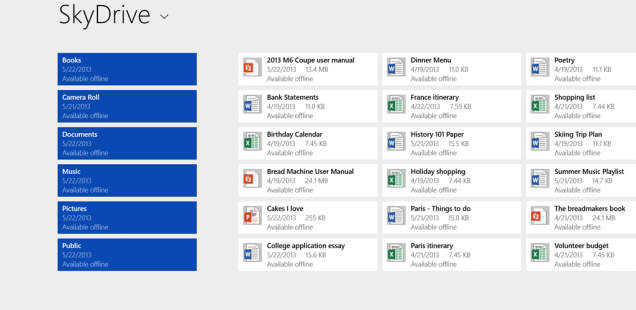 In Win­dows

8

.

1

, files can be saved dir­ectly to SkyDrive.
Sky­Drive app gives you access to files are access­ible even when offline.
When a user log on to Win­dows

8

.

1

device with Microsoft account (Out​look​.com by default), Auto­mat­ic­ally all the per­son­al­iz­a­tion takes place with his set­tings and apps, mak­ing switch­ing or set­ting up a new device really easy.
PC

Settings
PC

Set­tings in Win­dows

8

.

1

gives access to all set­tings on the device without hav­ing to go to the Con­trol Pan­el on the desktop.
Internet Explorer
Win­dows

8

.

1

, get­ting Inter­net Explorer

11

. IE

11

is the only browser that is built for touch.
IE

11

will offer even bet­ter touch per­form­ance, faster page load times and sev­er­al new features.
User can have as many open tabs as he wants. And access the tabs sync across oth­er Win­dows

8

.

1

devices.
Better Mouse and Keyboard Options
Win­dows

8

.

1

also focuses on num­ber of improve­ments to ensure easi­er nav­ig­a­tion for people using a mouse and keyboard.
User can set options to change when the mouse moved to the corners.
There is anoth­er option to to boot into altern­ate screens like desktop instead of start screen.
It looks like Win­dows 8.1 is lot of refine­ment to the win­dows 8.
source: Blog­ging Windows