Mozilla has plans to deliver Firefox 5 on 21st June, Firefox 6 on 18th August
Mozilla released Firefox 4 few weeks back and as the user-base is coming back, Mozilla planning the chrome-like development process to see Firefox 5 out by 21st June, Firefox 6 by 18th August and Firefox 7 by year end.
Every new Firefox release to go through three main phases before release – mozilla-central (like Canary build for Chrome), mozilla-aurora (Dev channel) and mozilla-beta, each one expected to last about six weeks.
The first alpha release of Firefox 5 will be expected next week. Firefox 6 will be out in May. Firefox Alpha builds will be called Aurora. These will be auto-updated and a separate icon to denote the separate build. Mozilla has plans to release Firefox 7 by the end of this year as well.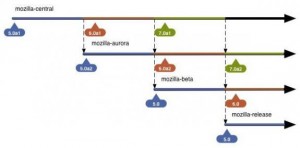 Source: TCMagazine
Gouri Shankar is Tech Geek and Java, PHP and WordPress developer from India.