Moz­illa released Fire­fox 4 few weeks back and as the user-base is com­ing back, Moz­illa plan­ning the chrome-like devel­op­ment pro­cess to see Fire­fox 5 out by 21st June, Fire­fox 6 by 18th August and Fire­fox 7 by year end.
Every new Fire­fox release to go through three main phases before release — moz­illa-cent­ral (like Canary build for Chrome), moz­illa-aurora (Dev chan­nel) and moz­illa-beta, each one expec­ted to last about six weeks.
The first alpha release of Fire­fox 5 will be expec­ted next week. Fire­fox 6 will be out in May. Fire­fox Alpha builds will be called Aurora. These will be auto-updated and a sep­ar­ate icon to denote the sep­ar­ate build. Moz­illa has plans to release Fire­fox 7 by the end of this year as well.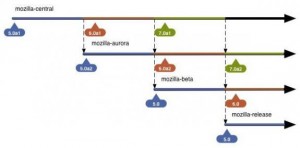 Source: TCMagazine