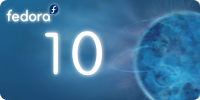 Fedora Pro­ject, today announced the release of Fedora
10
integ­rated the latest free and open source soft­ware. Fedora
10
fea­tures? Ply­mouth, the new graph­ic­al boot sys­tem speeds up the boot pro­cess by util­iz­ing the fea­tures in new ker­nel. Fedora
10
also comes with enhanced secur­ity tool called Sec­Tool. Fedora
10
includes the Open​Of​fice​.org
3
.
0
and
GNOME
2
.
24
.
1
, a rewrit­ten audio sys­tem uses lower power with quick
&
increased response and sup­port for more hard­ware,
RPM
4
.
6
is a major update to the power­ful, flex­ible soft­ware man­age­ment lib­rar­ies, Wire­less con­nec­tion shar­ing enables ad hoc net­work shar­ing, loc­al and remote con­nec­tions Vir­tu­al­iz­a­tion stor­age is simplified
Fedora 10 is avail­able with install­able or live ver­sions with GNOME, KDE desktop.
Down­load the Fedora 10 at Fedora down­load