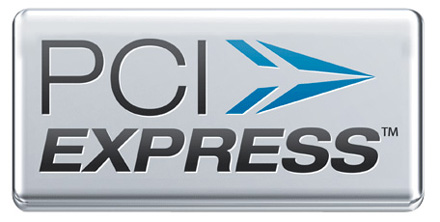 The PCI-SIG (Spe­cial Interest Group), PCI spec con­trol­ler group, announced the trans­fer rate for the upcom­ing PCI-Express 3.0 spe­cific­a­tion, expec­ted to debut by the end of 2009 or early 2010. Accord­ing to inform­a­tion, cur­rent spe­cific­a­tions exist in the ver­sion 0.7, where­as series products with the sup­port of new inter­face will appear not earli­er than 2011. PCIe 3.0 will have trans­fer rate of 8GT/​s, com­pared to PCIe 2.0's 5GT/​s. GT stands for GigaT­rans­fers per second, and dif­fers from the stand­ard unit of meas­ure­ment due to PCI-Express encod­ing sys­tem. The encod­ing sys­tem is 8bit or 10bit. PCI Express 3.0 uses the same con­nect­or and is back­ward com­pat­ible with PCIe 2.0.
A PCIe 1.1 sys­tem has a trans­fer rate of 2.5GT/s. PCIe 2.0 has double of PCIe 1.1 i.e; 5GT/​s. PCIe 3.0 will increase the trans­fer rate from 5 GT/​s of PCIe 2.0 to 8 GT/​s, but will not require the same encod­ing mech­an­ism. there­fore PCIe 3.0 will double total avail­able band­width as com­pared to PCIe 2.0. PCI express 3.0 sup­port will be released on 65 nm tech­no­logy or thin­ner. The first products with PCI express 3.0 sup­port will be mother­board , video card and some serv­er solutions.
One bene­fit of PCIe 3.0 would be the abil­ity to build high­er-end graph­ics cards that uses a smal­ler PCIe slot inter­face. This, in turn, could open up chances for high­er-end graph­ics cap­ab­il­ity in sys­tem form factors that are cur­rently too small to use large x8 or x16 slots.
Read more at Xtreview's art­icle PCI EXPRESS 3.0