PCI

Express

3

.

0

Details showed up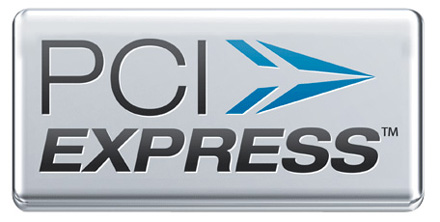 The PCI-SIG (Spe­cial Inter­est Group), PCI spec con­troller group, announced the trans­fer rate for the upcom­ing PCI-Express 3.0 spec­i­fi­ca­tion, expect­ed to debut by the end of 2009 or ear­ly 2010. Accord­ing to infor­ma­tion, cur­rent spec­i­fi­ca­tions exist in the ver­sion 0.7, where­as series prod­ucts with the sup­port of new inter­face will appear not ear­li­er than 2011. PCIe 3.0 will have trans­fer rate of 8GT/​s, com­pared to PCIe 2.0's 5GT/​s. GT stands for Giga­Trans­fers per sec­ond, and dif­fers from the stan­dard unit of mea­sure­ment due to PCI-Express encod­ing sys­tem. The encod­ing sys­tem is 8bit or 10bit. PCI Express 3.0 uses the same con­nec­tor and is back­ward com­pat­i­ble with PCIe 2.0.
A PCIe 1.1 sys­tem has a trans­fer rate of 2.5GT/s. PCIe 2.0 has dou­ble of PCIe 1.1 i.e; 5GT/​s. PCIe 3.0 will increase the trans­fer rate from 5 GT/​s of PCIe 2.0 to 8 GT/​s, but will not require the same encod­ing mech­a­nism. there­fore PCIe 3.0 will dou­ble total avail­able band­width as com­pared to PCIe 2.0. PCI express 3.0 sup­port will be released on 65 nm tech­nol­o­gy or thin­ner. The first prod­ucts with PCI express 3.0 sup­port will be moth­er­board , video card and some serv­er solutions.
One ben­e­fit of PCIe 3.0 would be the abil­i­ty to build high­er-end graph­ics cards that uses a small­er PCIe slot inter­face. This, in turn, could open up chances for high­er-end graph­ics capa­bil­i­ty in sys­tem form fac­tors that are cur­rent­ly too small to use large x8 or x16 slots.
Read more at Xtre­view's arti­cle PCI EXPRESS 3.0
Gouri Shankar is Tech Geek and Java, PHP and Word­Press devel­op­er from India.