Note­padd+ is free source code edit­or developed on a power­ful edit­ing com­pon­ent Scin­tilla. Note­padd++ sup­ports sev­er­al pro­gram­ming Lan­guages. Note­pad++ can be made default edit­or on win­dows using this tutori­al.
Fea­tures
Syn­tax High­light­ing and Syn­tax Folding

WYSI­WYG

User Defined Syn­tax Highlighting
Auto-com­ple­tion
Multi-Doc­u­ment
Multi-View
Reg­u­lar Expres­sion Search/​Replace sup­por­ted over mul­tiple documents
Full Drag 'N' Drop supported
Dynam­ic pos­i­tion of Views
File Status Auto-detection
Zoom in and zoom out
Multi-Lan­guage envir­on­ment supported
Book­mark
Brace and Indent guideline Highlighting
Macro record­ing and playback
File com­par­is­on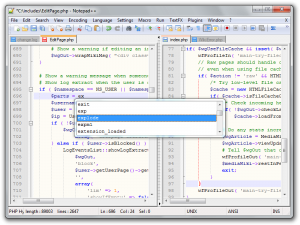 As of latest ver­sion 5.8.6, 52 lan­guages are nat­ively sup­por­ted by Note­pad++. With plu­gins sup­port the Note­pad++ becomes power­ful source code edit­or. The list of plu­gins are at NPWiki++.
Down­load Note­pad++.